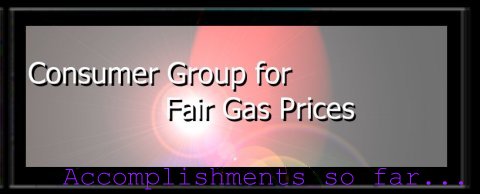 What we have accomplished so far:




1) We have requested that Government release retail gas prices within the province, through various media. It should be starting in "The Telegram" by July 28th, with Island wide gas figures.

2) Increase public awareness to the effects of higher gasoline prices both on the individual consumer as well as on the local economy, as it partains to inflation in Nfld & Labrador.

3) Brought about public debate on the "Restrictive Covenancy" on North Atlantic Petroleum, by Petro Canada, on the sale of the Come By Chance refinery, which is choking off the supply of gasoline to the rest of Mainland Canada. We believe this to be an added restriction and cost to the consumer in that this is a supply of gasoline not available to consumers & it helps protect the present Mainland market, keeping prices there *artificially high*.

4) Promoted the use of the independant dealer, who is the last link left to what, we believe to be, "The free market". Some areas of the Province do not have these independants who ca make the decision on their own sell price for gasoline.

5) Brought about discussion amongst City and Municipal councils on high gas prices and their effects upon budgets.

6) Forced the Oil companies locally, to stand up and take notice of the problem, that we feel, of unfair and unjust gasoline pricing policies.

7) Met with both Government Agencies and the major Oil companies increasing our basic knoledge in how both operate, in order to become informed on the issue.