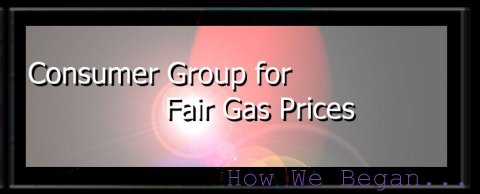 How we began...


Early January of 1999, a public meeting was called by St. John's City Councillor, Mr. Dennis O'Keefe, the founder of the group, called the meeting out of an expressed public concern, for the high price of gas.
From this meeting, the Consumer Group for Fair Gas Prices, was formed.


A little bit about us...

We are STRICTLY a consumer group that expresses public concern as well as representing the consumer, when it comes to gasoline prices.
That was why the group was formed.
I may ad, that Mr. O'keefe makes a GREAT spokesperson.


George Murphy -
Myself, I can say, I was then a concerned open line caller to the radio stations, who as someone said, "Liked to hear my own voice".
That may be stretching it a slight bit.
I guess I was one of many, in that the only difference was that I wasn't afraid that thousands WERE LISTENING to me.
I am a Bus Driver by Trade, so I guess I have good "on the road" experience.


Mr. Dennis Lawlor, is a great consumer Advocate, who has the uncanny ability to look after both sides of an issue, and I have to say always does when an issue comes up.
I always tend to bounce ideas off him, to see if I missed anything and it's often that just that happens.
We debate between each other and often he comes out on top.
Dennis has also had other dealings, on the political side, so he brings in GREAT EXPERIENCE.


Gerald Coombs -
He is the "best dressed" on the committee.
Being a retired Teacher, I guess you could say, that he teaches us a few lessons, from time to time, and more often than not, at meetings with both the Oil companies & Government.
Not very often, does he miss the smallest of details. I find that when he brings in a point at meetings, he can show both the positive and the negative as well as bring light to the issues at hand.


Mr. Baxter House -
Baxter is the quiet type, I find. He is the senior citizen of the group, who looks at the situation from the eyes and ears of one.
He speaks on thier level, and is very concerned over the effects to the bottom line, of not only the senior citizen, but anyone who is on a fixed income.
That's basically WHO we are, and HOW we started.
I give FULL credit to Mr. O'Keefe, for starting the group and the consumers who express concern, & we all thank him greatly for that.
We will continue to meet and to advocate on your behalf. There are a total of 9 members on the committee, who are available, from time to time, for general committee discussions.
We would, however, like to solicit and encourage the forming of Sub-committees from various Comunities who also wish to affiliate with our consumer group.


We have no operating budget and SOLICIT NONE.
YOUR money is better left in YOUR OWN pocket. So I guess you can buy just "A little more gas with it".


Sincerely,
George Murphy
Committee Member